Morning everyone. This is a scheduled post as I'm at work today. Can't wait for the weekend, three consecutive early shifts - am cream crackered lol! Only next week to go and then I've got a weeks annual leave over Easter - whippee!!
Big thankyou to all of yers that joinined in Joanne's challenge over on
Totally Papercrafts
last week, you really are are a creative bunch of peeps. This weeks challenge is set by the lovely
Anne
and we want to see
P I N K and G R E E N
This week we are sponsored by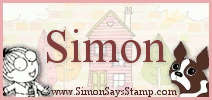 This is a bit busy for me - a bit OTT with the papers but I'm currently in an "experimenting" phase with me papers! Was also a bit high on chocolate that I was merrily munching my way through at the time hence the paper explosion lol! The top flowers were part of my prize from
Ria
before I joined the DT
RECIPE
Stamp - Secret Crafter
Colouring Mediums - Copics and Promarkers
Papers - Basic Grey
Flowers - Prima and Ria
Cardstock - stash
Nesties
Cuttlebug Embossing Folder
Spacers and brads - Hobby House
Gems, ribbon and card candy - stash
My teamies have come up with some superb creations this week, don't forget to check them out. Thankyou for stopping by my little crafty haven do hope you can join in the fun with us. Can't wait to see what you come up with.
Take care
Mel X