Hi Everyone,
Welcome to the November release blog hop!!!! We have tons of new images to share
If you have arrived from Danni's Blog you are in the right place - if not, please start at the beginning HERE.
Please leave comments along the way as there will be two Mystery DT Members who will each be choosing a winner from the comments left on their hop posts! These winners will each win a Whimsy digi image of their choice.
The Grand Prize winner of the hop chosen from the very last stop, (which is MEEE) - whoo hoo a will receive 5 new digital stamps of their choice from Whimsy, and will also get a chance to use those new digital images as a guest designer for Whimsy for the entire month of November.
I've two images from Meljen's Designs, available exclusively from Whimsy Stamps.
The hop will run until 12 noon EST 7th November, when the winner will be announced right here.
Whimsy Stamps is also celebrating there 2 year anniversary during the month of November! We would love for all of you to join in the fun and help us celebrate! We are going to be holding special product sales all month long and holding some fun events too! Be sure to enter our Fan Favorites Week too!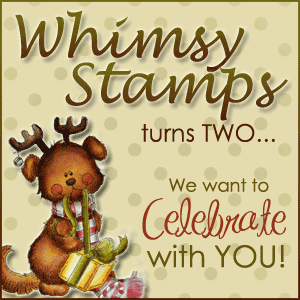 Good luck everyone.
Mel X