Morning everyone.
Here in the UK our summer weather seems to have run off and got hidden lol, so if you're lacking a little bit of sunshine hopefully this challenge will brighten all our days. So raid your stamps and digi images and use all things that shout and scream of summer.
I've used this fun image "Kai in the Sand" from Mo's Digital Pencil.
Dunno where the papers are from as they've been in my stash for a while and I've lost the front cover - sorry! The little star fish were a lovely find in our local Hobbycraft store. The ribbon's from my stash and the sentiment is by Penny Black.
Our fabulous monthly sponsor Simon Says Stamp is our sponsor for this challenge and one random lucky winner will get a $10 voucher code to spend in the Simon Says online store.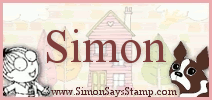 I'm also entering this card into the following challenges...
Papertake Weekly
- Getting Cute
Mo's Digital Pencil
- Summer Vacation
Charisma Cards
- Sunshine Colours
Daring Cardmakers
- Wish You Were Here
Allsorts Challenge
- Free and Easy
It's my birthday today and I've a busy day planned ferrying Emily to her gymnastics class and birthday party! Then later today we're off to see my friend Jim, the cocker spaniel breeder. I'm taking my camera and planning to take some pics of our little pupster, I think he's only about 3weeks old at the mo! The pics will be going on my blog so keep your eye peeled for those!
Right, I'm off, need to finish my brew and dressed, Emily's got to be at gymnastics for 10am so I need to get me skates on!
Thanks for stopping by. Have a lovely weekend.
Mel X