Hello and thanks for stopping by. Pete, the kids and I had a wonderful night last night at my SIL's (
Crafting Joanne
) birthday party - happy birthday for today sweetie! The kids were totally cream crackered after getting in about 1am - Ethan still got up a 7am though!!!
Well the 'Make Your Own Flowers' challenge was popular so there was an amazing abundance of your DIY flowers, so gorgeous.
This fortnights challenge has been set by the wonderful Angel who has a lovely colour combo for you...
Please stick mainly to the above colours with skin tones and hair colour not included in the colour combo.
Here's my offering......I had a little spending spree on flowers, I don't think I'm very good with using them but want to get practicing and playing around with them. Hows this for my first real try? I opted to use this rather gorgeous LOTV image and throw a bit of glitter around.
I'm really chuffed with how it turned out.
We are sponsored for this challenge by our regular sponsor Simon Says Stamp with a $10 voucher code for the winner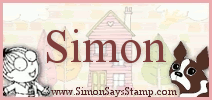 I'd like to enter this card into the following challenges.......
Clearly IStamp
- Glitter
Crafty Ann's
- Make Yourself Uncomfortable (Flowers)
Crafty Ribbons
- Anything Goes
Thanks for stopping by.
Mel X