Hello everyone. I'm sooo sorry, I owe my teamies at SFCC a HUUUUUGE apology!!! This post was scheduled but I hadn't realised I needed the finish writing the darn thing - oooops.
First we have some fab news to share - we have a new DT member join us so please give a warm welcome the lovely Jacqui from (Poodles Doodles) welcome aboard sweetie.
.Our challenge this month is......SANTA, here's my little creation......
And our sponsors for this month are
Whimsey Stamps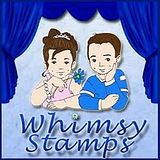 offering a fabulous prize of $15 to one lucky winner
My teamies have come up with some truly awesome cards and we're all loving cracking on with our Christmas cards for this year. We really hope you can join us. Check out the challenge blog
HERE
to see their creations.
I'm off to ring the vets now as my little dog Dylan is back in hospital - AGAIN! bless him, and would love some happy healing thoughts if you've a moment to spare!!!
Thanks for stopping by. Enjoy the rest of your weekend.
Mel X