Morning everyone, happy Easter. Well we are now officially in British summertime in the UK - and yet winter is STILL with us!! I soooo hope we get some warmer weather soon, I reckon we could all do wit a bit of colour in our cheeks!!! Not only that I've bought myself a gorgeous pair of nude suede wedges which I'd rather NOT wear in rain or snow lol.
**************************
Now enough chatter from me and lets get down to business. We have a new challenge for April over at
Sparkles Christmas Challenge
. We have a lovely easy one for you.....
TAG IT
Yes, we want to see tags on your creation, or you can make the tags themselves your project. As always the theme must be Christmas and don't forget we are a multi craft challenge so you can make whatever you want - as long as it fits the theme AND is for Christmas!
Can't wait to see what you come up with. Here's my little effort......
I do like these little HM mice, they are adorable. I'm thinking now though I should have added ribbon - at the time I made these I saw that as a waste of ribbon though - the kids rip open the presents and the wrapping goes in the bin and I couldn't bear this to happen to my precious ribbon - or maybe I'm just tight really lol.
Our Sponsor for this month is Di's Digi's and thank them enormously for their generosity.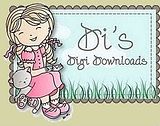 The prize is $10 worth of Di's Digi's.
I'm off to get dressed now and have another cuppa before heading out with the dogs. We have a new addition by the way.......Misty. She's a four and a half year old ex breeding bitch and has come to us for a forever retirement home. She's very brave and not used to living in a home so everythings scary but coming on a treat. She is quickly discovering living in a home is very nice indeed and has already found her spot on the sofa. I call her my little princess - Pete says she's more like a queen - Queen Victoria rofl. This is my favourite photo - off lead for the first time.......

She's responding really well to positive training and her recall is great.
Take care and happy crafting.
Hugs
Mel X