Hello me luvverlies! I've had a very lengthy break from blogland to allow me to concentrate on family matters and it feels like I've been gone YEARS! LOL. In my absence I've redecorated my craft space - and had installed a GORGEOUS wood burning stove!!! Don't think I'll be ever outta there come winter rofl. I'll post some pics later - promise!!!
I've scaled back my DT commitments considerably and I'm hoping this will allow me to get back into scrapbooking which I loves but haven't actually done in AGES!! The kids are growing up waaaaaay too quickly and my little pupster the Harley dog celebrated his first birthday last week, can't believe how fast time is going and I REALLY want to get scrapping all my pics!!! You never know, I might manage to organise some pages to meet some of DT commitments which would make a lovely change!!
-----------------------------------------------
My post today brings to you the new challenge over at Sparkles Christmas Challenge. I've known many of these ladies since I first dipped my toe into blogland and I'm sooo grateful for their friendship, its luvverly to be creating with them again - thanks guys - you're the bestest!!!
Don't forget our challenges run for one month and our challenge for July is.........
.................a sketch, and a fabby one at that I have to say!!!! I soooo enjoyed playing around with this, make sure you copy it although you may turn it, change it round, add embellishments so long as all the elements are there!
Our fab sponsors for this month are of course our regular monthly sponsor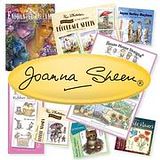 With a prize of a £10.00 voucher for 1 lucky winner
and a second prize for one lucky winner is 5 digis from.......
My teamies have worked their magic with this one and come up with some awesome creations, don't forget to check them out HERE. I toyed with the idea of using the sketch to create a scrapbook page but that went right outta the window when I got me mitts on a super duper stamp and some new die cuts - I just had to use THE LOT lol. This is the result.........
On my return to blogland couldn't resist a bit of a spending spree! Magnolia, memory box and spellbinder binder die, new bling, chalk, serendipity stamp, cuttlebug embossing folder, nitwit papers and new sparkly dotted card candy later and my purse is a bit lighter rofl!!! I reverted back to my old watercolour pencils for this image as my promarkers just seems to swamp it!! I went over the pencils with sansadoor.
In addition to the challenge we also have a DT call so if you'd like to join our friendly crew please check out the details on the challenge post HERE.
I'm off back to bed now as I'm on nights. This is a scheduled post and I've not done it for a while so if it works - have fun and good luck! If it posts early - you can still have fun but I'll be the one in the naughty corner rofl.