Hiya everyone. Ooooooh I'm in the naughty corner tonight!! I forgot to schedule todays post before I left for work - sorry Shaz!!! Anyhoos, better late than never eh? Blummin cold 'ere in East Yorkshire, certainly feels like summer has up sticks and done a runner and winters just around the corner!! Today we even have our Christmas rota out so we can all fill in our requests for the holiday season - that means its getting close now lol. Has anyone started their Chrimbo shopping yet???? I have, my plan this year is to be all done and dusted by the end of my week off at the start of November - well, thats plan A, I'm not even gonna contemplate a plan B lol.
---------------------------------------------------------------
and as always, don't forget your project must be for Christmas & can be cards, tags, bookmarks, scrap layouts or anything you like as we are a multi crafts blog.
I've used a smashing image from Mo and some fabulous vintage looking papers, Bo Bunny I think.......
Our fab sponsors for this month are of course our regular monthly sponsor

Joanna Sheen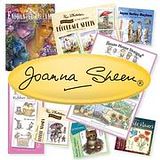 With a prize of a £10.00 voucher for 1 lucky winner
And our second winners prize is from
Robyn's Fetish
With a prize of 5 digi's for 1 lucky winner
I do hope you can join us, this is a fab fun theme to kick start your Christmas makes this year. Can't wait to see what you come up with.
Thanks for stopping by, I do appreciate it. Take care and happy crafting.
Mel X