Hiya everyone, thanks for stopping by. Not long now until the big day!! Our Christmas deccies are going up this weekend. I'm so excited about Christmas this year, I could burst!!
I've stuck with my Plan A - get all Xmas shopping done by start of December - whooo hooo. This is a first for me and to top it off, I've got everything wrapped and labeled too. I am NEVER that organised and feel really chilled out as a result - must make the effort to keep it up every year lol.
I'm working six hours on Christmas morning but the kids, when given the options of my hours/shifts available - CHOSE for me to work the morning so that once I'm home, I'm staying home and not leaving for work. They want me to be there for when they open their pressies so they're opening a handful before I leave for work and saving the rest for when I get home at just gone 1pm. I'm sooo proud off them!!
The cherry on top for me is that my side of the family is spending Xmas day with us - that's my dad, mum, stepdad and my brother Garry. Last Xmas Garry had got in touch with me after an ELEVEN YEAR absence and wasn't ready to meet with our parents. My mum found that one real hard!! Over this last year bridges have been built and relations re-established and all seems to be going well. Because there's so many of us on the big day and with me working the morning shift, we're off to the pub for Xmas dinner!! We've NEVER done that so I'm really excited - no pot washing rofl!!!
****************************
Now for what you really came for lol. We have our new challenge up and running over at
Sparkles Christmas
and its a REALLY simple one!
BUTTON OR BOW
Don't forget your project must be for Christmas and linked back to the
challenge blog
. You can create cards, tags, bookmarks, scrapbook layouts or anything at all as we are a multi crafts blog.
I've created a card using this fabulous fun image ...............
Our wonderful sponsor this month is the fab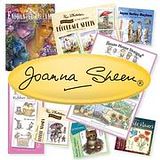 With a £10.00 voucher prize for one lucky winner.
Please check out the challenge blog
here
to see the awesome creations by my lovely teamies. They really are fabulous bunch of girls and it is such a privelege to work with them!!! We also have a new crafter joining our DT ranks this month so please give a warm welcome to Susie from
Susie's Craft Creations
.
Thankyou sooo much for stopping by. It means a lot and I do so love reading your lovely comments.
Happy crafting and Merry Christmas to you all.
Mel X